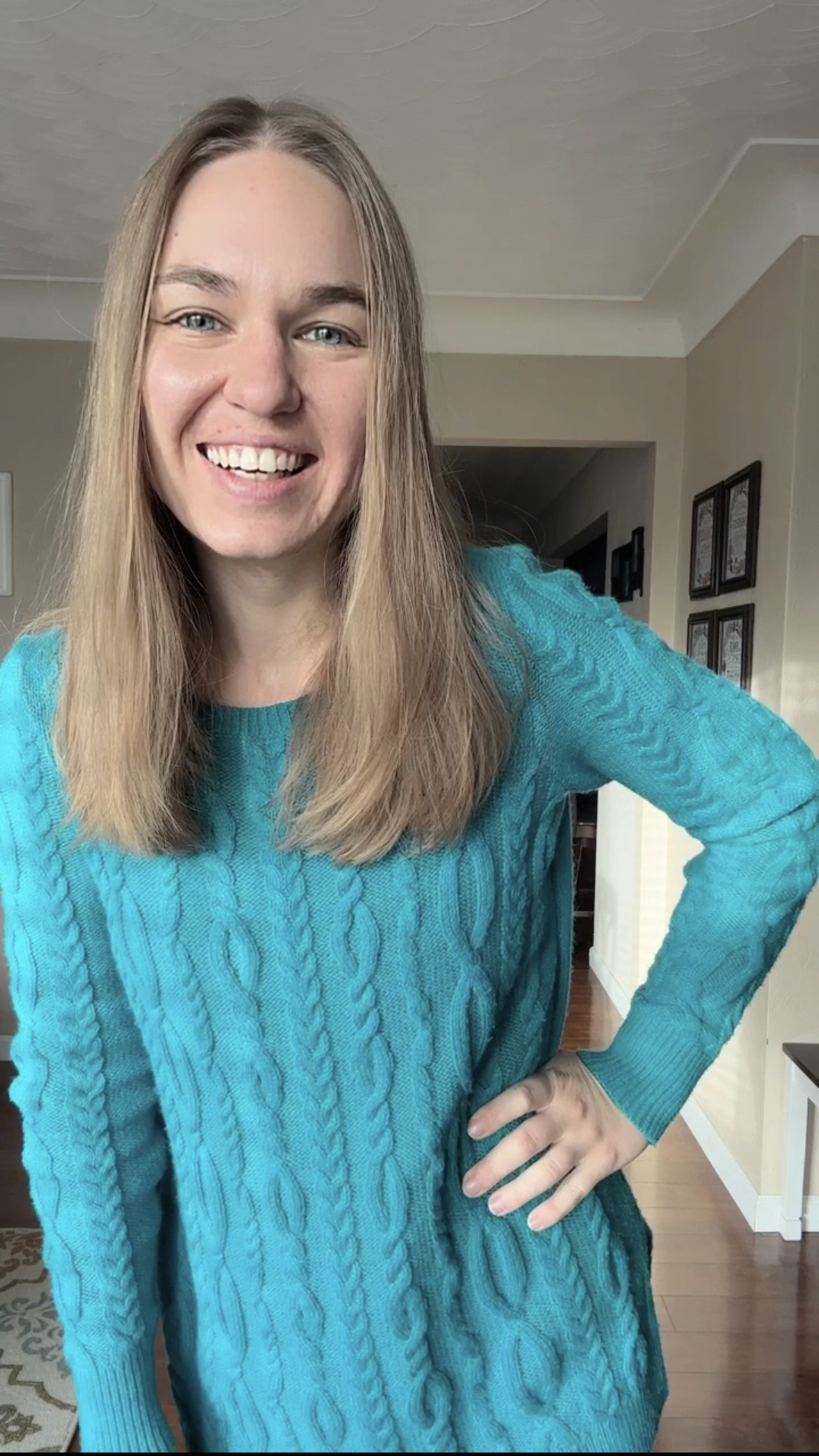 Imagine if you…
no longer have daily cravings and don't even think about the candy in the cabinet
have energy to do more things you care about like playing with your dog or kids
learn how to eat healthy on your schedule and find joy in eating healthy food that actually tastes good
have healthy eating habits you can maintain and enjoy so you no longer have to bargain with yourself to enjoy just a little treat
…without restrictions or forcing yourself to eat anything you don't want to
Food Freedom Blueprint is my signature 1:1 virtual coaching program that teaches you how to eat for your needs to end the back and forth of trying to eat better, for good. 
Here's what most people get wrong when thinking about healthy eating…
fat makes you fat
red meat should be limited
coffee is an acceptable breakfast
egg whites are healthier than the entire egg
low and zero sugar drinks are better for you
calories are important when choosing what to eat
it's better to choose low carb options like cauliflower
you have to cut out sugar completely to stop craving it
If any of that sounds familiar to you, you're in the right place.
What you'll learn in this program will completely transform your understanding of what it means to eat healthy to ditch diet culture and enjoy food on your own terms.
Introducing Food Freedom Blueprint (FFB)
I was struggling with diabetes and finding the right food choices to lower my sugar levels.  I learned that I was not choosing the correct foods to eat balanced meals and snacks.  I learned that when I ate balanced meals and snacks every 3 to 4 hours I felt more satisfied and did not feel hungry and cravings lessened.

Great advice.  Great tips.  Encouragement and positivity.  Accountability.

If you are struggling with food choices and how it affects your health Abigail is very helpful with the one-on-one guidance she provides.  She is truly compassionate about helping one achieve their nutritional goals to live a healthier life.
Complimentary Breakthrough Session
Ready to learn how you can ditch diet culture, enjoy food while taking care of yourself, and get personalized support to make every step there simple? Book a 30-minute call with me to learn how I can help you.
During this video call, we will go over:
• your concerns and goals
• how FFB can specifically support your journey
Enrollment into FFB begins immediately upon agreeing to work together!
WHO THIS PROGRAM IS FOR:
If you are…
• lacking in energy throughout the day
• struggling with cravings and binge eating
• dealing with bloat and indigestion all the time
• have been a "I'll start again on Monday" person
• continuously wanting to eat better but don't know where to start
• feeling like you're falling apart and don't want to have to take medications the rest of your life
WHAT THIS PROGRAM INCLUDES:
Upon enrollment, you immediately get access to:
3-months of personalized nutrition and lifestyle recommendations so that you don't have to keep trying different diets or cutting out foods
7 video meetings for step-by-step support so that you can stop feeling like you can't stick with any healthy habits
unlimited text and email support during business hours to have accountability
a full nutrition assessment to track that what you're doing is working
snack and meal ideas to fit your needs, including reduce sugar cravings, have more energy, and stop be bored with trying to eat better
Prior to us meeting I was eating fast, struggling with some gas issues and extra weight creeping into my lower abdomen.
We have met 3 times I believe and even after the first meeting things had  improved that following week because I started to take your suggestions  and eat slower, enjoy my food etc. I think that helped me to feel fuller sooner and also more satisfied. Plus it matches up with my mindful mindset I try to create just around living in general.
In the second and third meeting you helped me to realize it was ok to eat more of the yolk in my eggs and get more protein in first thing in the day. If I can manage that then I make it easily to lunch without being hungry!
So far I am very happy with your help!
Proven process for results: No more guessing and no more yo-yo dieting – I'm going to help you learn how to eat to feel good, for good
Tons of support: Get real-time support and answers to your questions through text or email, during business hours M-F. Think of a question – send it to me.
Coaching calls: You'll get face-to-face support on our bi-weekly coaching calls. This is where we can dive even deeper into your questions and provide more information to continue your journey.
Detailed curriculum: 1:1 support means getting advice tailored to your specific needs. I'm going to provide you with everything you need to know to eat to feel your best including food swaps, recipes, snack suggestions, and all the education that goes with it.
Supportive community: You also have access to a dedicated Facebook support group. You're not on this journey alone. An insiders group is there to support and inspire one another.
Get Started with My Free Guide
Imagine if you no longer had to struggle with trying to eat healthy and found confidence to be your best for yourself and those you care about
…without restrictions or forcing yourself to eat things you don't really want to